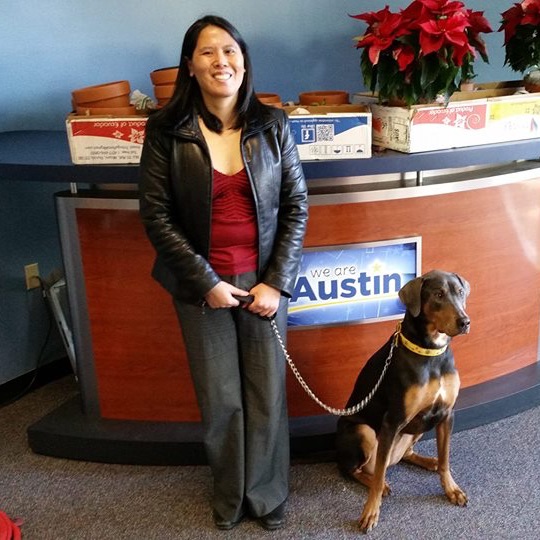 Dr. Elena Lee became interested in pursuing additional studies in veterinary acupuncture, veterinary rehabilitation, and animal chiropractic in the We offer mobile animal chiropractic, veterinary acupuncture, veterinary rehabilitation, and veterinary laser therapy services for your dog and cat family members in the North Austin, Pflugerville, Round Rock, and Cedar Park areas for our dog and cat companions.  She attended the University of Texas at Austin for undergraduate studies and then graduated from Texas A &M College of Veterinary Medicine in 2002.  Dr. Elena Lee first obtained additional training for veterinary rehabilitation at the Canine Rehabilitation Institute to become certified in Canine Rehabilitation. ​Next, she trained at the International Veterinary Acupuncture Society to become certified in Veterinary Acupuncture.
Lastly, she pursued her studies of animal chiropractic at the Parker University animal chiropractic program.  ​Dr. Lee also took a voluntary certification test to become certified in Animal Chiropractic by the American Veterinary Chiropractic Association.   Pain control was Dr. Lee's was the initial reason for pursuing further post- graduate training in veterinary rehabilitation, veterinary acupuncture, and animal chiropractic in order to add another tool to help her patients. In addition, it allows her to have a complementary approach to treating many other conditions.
She shares her home with one brown tabby cat. In her free time, she enjoys hiking, cooking, gardening, Brazilian jiu jitsu, and anything in the science fiction and fantasy genre.