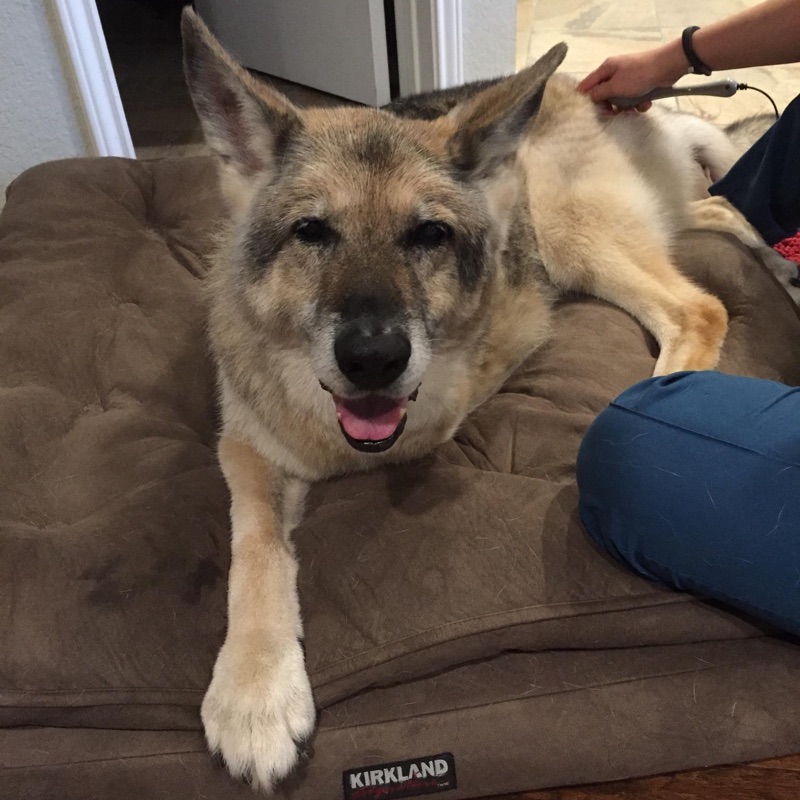 Symptoms: Arthritis, falling trauma
Treatment: Veterinary Laser Therapy, Animal Chiropractic
Testimonial submitted by: Jenn W.
We have a 14 year old, three-legged german shepherd who is currently on several medications for pain (arthritis) in addition to joint supplements for some additional comfort. We had boarded him for a weekend so we could go on a short camping trip only to come back to a very different dog. He had experienced an unfortunate fall onto concrete while attempting to get up off of his bed during the night. The staff felt horrible about what happened and immediately treated him for pain. Unfortunately for our old dog, he did not respond well to the heavy dosage of pain killers. His ego was bruised and his confidence was shot (not to mention that he was hardly 'hopping' as well as he used to). My husband and I decided that we should try to find an alternative way of treating the pain rather than keeping on heavy prescriptions. Our dog had responded well to chiropractic treatments and acupuncture in the past, so we figured it would be a good idea to give it a try once again.
I researched for a vet who specialized animal chiropractic who was also close to my house (because hauling a 80lb three-legged shepherd long distances is not fun for either party). I found Dr. Lee's name through the Heart of Texas Animal Hospital website and made an appointment immediately. Our GSD hopped into the appointment the best he could and was not very sure about what was about to transpire. Dr. Lee thoroughly examined him and asked a bunch of questions that were relative to his previous fall, current medications, diet, and his current mobility issues. She was very thorough explaining the chiropractic and acupuncture process, what to expect after the first visit, and she even gave me doggie homework (to make sure he would continue benefiting from the treatment). Our GSD immediately relaxed once Dr. Lee started laser acupuncture treatment to his hips and spine. She hit some point on his feet that made him whip his head around (Dr. Lee explained it was a definite "ouchie" spot). As soon as she hit the same sensitive points, our GSD was out cold and snoring a little. Once the chiropractic part started, our dog immediately licked his chops and looked a little "relieved". She then used a larger laser to get the bigger areas right after his "cracking". After an hour and a half, a very happy GSD was practically sprinting out of the exam room. I couldn't be happier!
When it came down to making a follow up appointment, I explained to Dr. Lee that my dog has anxiety traveling and that we worked wacky hours – so we would try our best to get our dog in for a second treatment. When Dr. Lee mentioned that she would come to our house, I was absolutely thrilled! Our GSD has made some great strides (or hops) since we've met Dr. Lee. Our dog has even started to sprint outside to greet her when she comes to visit (he doesn't even do that with his actual owners most times). Even though we are incredibly lucky to have a GSD live to see his 14th birthday, we are also very lucky he gets to be "pampered" by such a knowledgeable and amazing vet!
Thank you Dr. Lee!